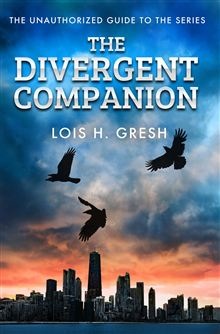 This is the companion that goes to the Divergent Series that was written by
Lois H. Gresh
.
Whats In this Book
Edit
Factions and Free Will
Edit
Neuroscience and Genetics of the factions
Edit
The Divergent and Mirror Neurons
Edit
Factions and The Factionless
Edit
Authorisation Rules and Prejudice
Edit
Pain in the neck simulations and serums
Edit
Inducing fear and erasing memories
Edit
Gadgets and Gizmos
Edit
What Is Utopia
Edit
References
Edit
Acknowledgments
Edit
in the Divergent Trilogy, the city of Chicago is segregated into five Factions:
At the age of sixteen, each citizen must pledge their allegiance to a faction. But if they choose to leave their factions, they can never return.
When Beatrice Prior leave Abnegation for Dauntless everyone is shocked by her choice. But Tris is hiding a dark secret, she is Divergent and if discovered is a death sentence. But as the carefully constructed factions of Chicago begin to crumble, divergence is the one thing that could save her.
Enter the world of Divergent and discover dark secrets, fanatical villains and romance. Packed with exclusive facts, insights and quizzes, this is a must have series guide.
Other Companions
Edit
The Mortal Instruments Companion
The Hunger Games Companion
Ad blocker interference detected!
Wikia is a free-to-use site that makes money from advertising. We have a modified experience for viewers using ad blockers

Wikia is not accessible if you've made further modifications. Remove the custom ad blocker rule(s) and the page will load as expected.