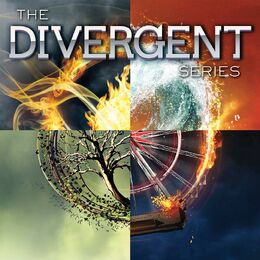 The Divergent trilogy (also known as The Divergent Series) is a series of three young adult dystopian/science-fiction books by Veronica Roth and published by Katherine Tegen Books. It is set in the future of a dystopian Chicago. The society is composed of five factions, where members of each faction dedicate themselves to the cultivation of a particular virtue. Divergent, Insurgent and Allegiant.
Allegiant follows the same trend as its predecessors in how the last syllable is pronounced, but does not end in -gent like them. It is also the first, and only, book in the series to be written from the perspective of a character other than Tris, in this case, Tobias/Four.
All the titles in the series have 9 letters in the title not including Four.
Insurgent is the only book to have a logo that is a different color other than White and Grey like on Divergent, Allegiant and Four. This does not include the Collector's Editions.
An Allegiant Collector's Edition will be release October 6, 2015 and is available for pre-order on Harpercollins.com
Ad blocker interference detected!
Wikia is a free-to-use site that makes money from advertising. We have a modified experience for viewers using ad blockers

Wikia is not accessible if you've made further modifications. Remove the custom ad blocker rule(s) and the page will load as expected.