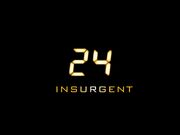 24: Insurgent is an unofficial not-for-profit web series in planning stages. No casts have been made thus far.
The series will focus around the story of Veronica Roth's Insurgent and will begin with a short prequel in which the main points of the preceding novel Divergent will be covered. The series will be 24 episodes long, with a new episode airing each week. The series will take on the real-time format of the critically acclaimed action series 24, which aired on FOX from 2001 to 2010. In order to fit the 24-hour storyline of the latter, the story of Insurgent will be condensed into one 24-hour time period as opposed to the novelized time frame of several weeks. 
Featured characters will include:
Beatrice Prior
Caleb Prior
Tori Ross
Peter Kendall
Edward Marsh
Tobias Eaton
Evelyn Eaton
Abnegation Representative Marcus Eaton
Amity Representative Johanna Reyes
Candor Representative Jack Kang
Dauntless Leader Eric Calloway
Erudite Representative Jeanine Matthews
Christina Mercer
Will Brannon
Ad blocker interference detected!
Wikia is a free-to-use site that makes money from advertising. We have a modified experience for viewers using ad blockers

Wikia is not accessible if you've made further modifications. Remove the custom ad blocker rule(s) and the page will load as expected.