Article
So hello guys here on Divergent Wiki, I am here to tell you that the following is all true and not fabricated to get the hopes up for us fans of the series. But in this short clip below it explains why they had to delete the following scenes below. Plus it will say why and how it was cut in the first place.
So it was confirmed that the part in the Divergent novel where Edward got it in the eye by Peter, Molly and Drew and who they thought that he was a threat like Tris was. The other scene that was unfortunately removed from the movie but is going to be on the special features of the DVD/bluray copies is when Four aimed a gun at Peters head.
But other then that, there might be more deleted scenes to be said or released by time and it could be where Tris actually and Christina watch Edward beat Peter. Seems like they have taken a few things away from the movie that was in the book. Like the fight, the Peter scene and the Edward scene. But also we didn't get a look at what the other shops look like.
This video has got evidence that shows that it is correct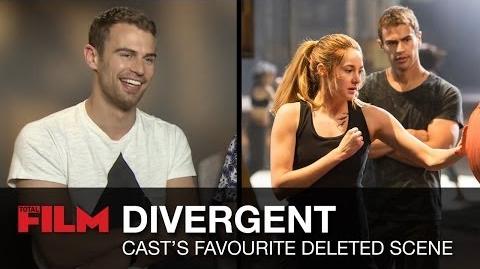 But it didn't not make it into the films because Neil Burger said that "it pained him" not add it in the movie. Theo James said "it was the first scene that shows Fours not right in the head" or on the lines of that. So what do you think?
They have missed out various things, but what are they and do you think that they should have done it exactly like the book?
My Thoughts
My thoughts on the scenes getting deleted from the movie, was because it might of made the movie a tad too long and it might of been not in the right spot anyway. But they could also be saving to for Insurgent (film) which is coming out next year. To explain to all three Tris, Four and Peter why he left.
Please leave a comment below to view your opinions about those two scenes being cut.
Documentaries
Plus here is ten full on short documentaries about the film which is coming to DVD/Bluray and I hope you enjoy it.
Thank you for reading.
Ad blocker interference detected!
Wikia is a free-to-use site that makes money from advertising. We have a modified experience for viewers using ad blockers

Wikia is not accessible if you've made further modifications. Remove the custom ad blocker rule(s) and the page will load as expected.