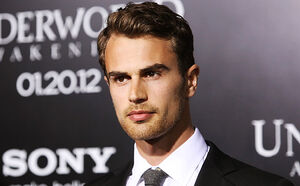 FINALLY!! We've all been waiting in anticipation for this moment and it's finally here! The studio has FINALLY announced who will be playing the role of
Tobias Eaton
, or Four, in the
Divergent
movie!
Hold onto your hats because Theo James has been cast as Tobias 'Four' Eaton in Neil Berger's big screen adaptation of Veronica Roth's bestselling novel! He will be joining a pretty great cast: Shailene Woodley, Kate Winslet, Jai Courtney, Zoe Kravitz, Ansel Elgort, and Maggie Q!
Just to remind you, James has beat out Alex Pettyfer, Jeremy Irvine, Lucas Till, and a number of other actors for the coveted role of Four! Do you think he fits the bill to be our Four?
In other news, Deadline reports that "Summit is also closing deals with Kate Winslet, Aaron Eckhart, Ray Stevenson and Miles Teller." We already knew Kate Winslet was joining the cast (and some sources say she will play Jeanine Matthews), but who will the others be? We could totally see Ray Stevenson as Marcus!
Tell us what you think about our new Four and your guesses on these actors' roles in the movie in the comments below!
Sources: Entertainment Weekly
Deadline
What do you think of the casting choice?
---
---
Ad blocker interference detected!
Wikia is a free-to-use site that makes money from advertising. We have a modified experience for viewers using ad blockers

Wikia is not accessible if you've made further modifications. Remove the custom ad blocker rule(s) and the page will load as expected.