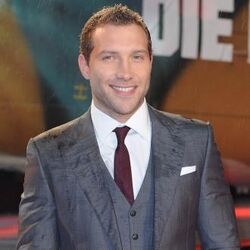 Finally! On the heels of casting news for Tori, Christina, and Caleb Prior, we finally know who one of the villains in the movie is going to be! According to Hollywood Reporter, Jai Courtney, who most recently played Bruce Willis' son in A Good Day to Die Hard, has joined the cast of Summit's adaptation of Veronica Roth's YA novel!
Courtney is going to be playing Eric, one of the leaders in the Dauntless faction. Eric has a face full of piercings and a terrible attitude to match it! Do you think Jai Courtney can fit the bill? Personally, it seems like he looks a little bit old to be playing a teenager with face piercings, but who knows!
Share your own opinion on the casting in the comments below!
Source: Hollywood Reporter
---
---
Ad blocker interference detected!
Wikia is a free-to-use site that makes money from advertising. We have a modified experience for viewers using ad blockers

Wikia is not accessible if you've made further modifications. Remove the custom ad blocker rule(s) and the page will load as expected.