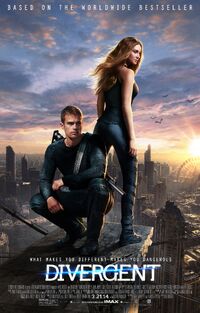 WOOHOOO!!!!! Get your wallets ready, initiates! Summit has announced that advance tickets for Divergent will go on sale beginning Tuesday, March 4th at 12:00pm EST / 9:00am PST! That's great news in itself BUT it gets better!
Moviegoers who purchase advance tickets before March 21st on Fandango or MovieTickets.com will have the opportunity to be entered in to a sweepstakes for the chance to win a walk-on role in the film's sequel Insurgent (TWO lucky moviegoers will win). ALSO, people who buy tickets online through Fandango and MovieTickets.com on the first day they are on sale - March 4th only - will receive a free download of the Divergent book!
Both of those sound great! So, don't forget, Tuesday, March 4th at 12:00pm EST / 9:00am PST is when the advance tickets go on sale. Get ready!
---
---
Ad blocker interference detected!
Wikia is a free-to-use site that makes money from advertising. We have a modified experience for viewers using ad blockers

Wikia is not accessible if you've made further modifications. Remove the custom ad blocker rule(s) and the page will load as expected.