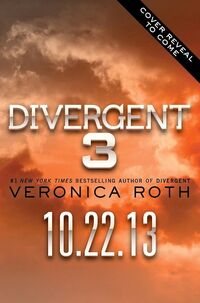 A lot of fans were wondering what Veronica Roth would title her third and final book in the Divergent (trilogy), and the author has finally spilled the details! In a pretty dramatic video on USA Today, Roth announced that Divergent #3 is going to be called Allegiant!
Fans had joked about Book #3 getting called Detergent, and many were speculating over names like Convergent or Resurgent. Allegiant is a play on the word "alliance", so the third book is possibly going back to the theme of loyalty (perhaps to faction or to love)? It'll be interesting to see where Allegiant goes with the giant cliffhanger Roth gave fans in Insurgent!
If you want to see the official announcement video, click on the link below!
Source: USA Today
What do you think of the title?
---
---
Ad blocker interference detected!
Wikia is a free-to-use site that makes money from advertising. We have a modified experience for viewers using ad blockers

Wikia is not accessible if you've made further modifications. Remove the custom ad blocker rule(s) and the page will load as expected.