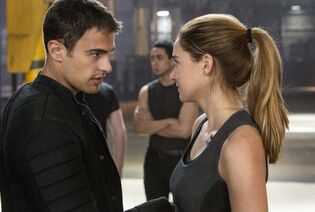 Interesting news, initiates! According to an interview with Access Hollywood, Shailene Woodley who plays Tris Prior in the Divergent movie revealed that Four's age would be bumped from 18 (book) to 24 or 25 (movie)!
In the interview, Woodley states, "Theo James, who plays my love interest in the film, is 28. In the book his character is about 18, but in the movie we're making him about 24, or 25. He's kind of ageless in a way. Even though in the book Tris is 16, we never really allude to the fact that she's that young….this film has a kind of maturity to it."
This is kind of a big change and fans seem to have mixed feelings about it! In the series, everyone has an aptitude test at 16 years old so maybe that'll change too? Share what you think in the comments below! Do you think the age change is the right decision?
What do you think about the age change?
Source: Page to Premiere
---
---
Ad blocker interference detected!
Wikia is a free-to-use site that makes money from advertising. We have a modified experience for viewers using ad blockers

Wikia is not accessible if you've made further modifications. Remove the custom ad blocker rule(s) and the page will load as expected.