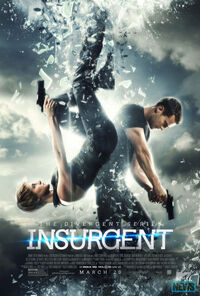 YES!! Divergent isn't even out in theaters yet, but, luckily, Summit must think it's going to do well enough to pull all the stops for the next one! Hypable reports that Summit has just hired Akiva Goldsman to work on the script for Insurgent's adaptation that Brian Duffield wrote last year.
If Goldsman's name doesn't sound familiar to you, maybe the other movies he's worked on will! Goldsman's screenwriting credits include A Beautiful Mind (for which he won an Oscar), The Da Vinci Code. He also co-wrote Cinderella Man, I, Robot, and Angels & Demons. We're really excited to see what the talented writer does with the sequel film!
Summit has set a March 2015 release date for Insurgent and a March 2016 date for the finale Allegiant. Divergent is out March 2014 (so soon!).
Source: Hypable
Ad blocker interference detected!
Wikia is a free-to-use site that makes money from advertising. We have a modified experience for viewers using ad blockers

Wikia is not accessible if you've made further modifications. Remove the custom ad blocker rule(s) and the page will load as expected.