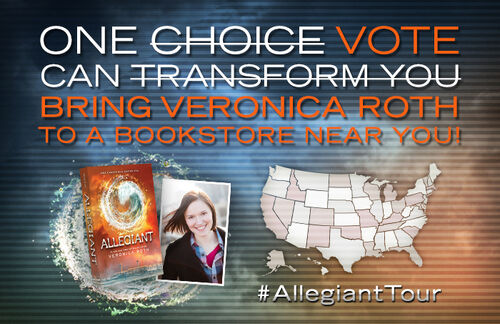 We got the cover for Allegiant and a couple of sneak peeks into the Divergent movie, but even more good news has arrived, initiates!! Author Veronica Roth has just announced that she will be going on a book tour for Allegiant, but YOU can have a say in where her tour makes its stops (but only in the United States)!
Head over to the official Divergent tumblr to vote now! As this post is being written, the rankings are as follows:
Texas
California
Florida
Illinois
Ohio
Are you in one of these states? Keep voting to get Veronica Roth to stop near you!
---
---
Ad blocker interference detected!
Wikia is a free-to-use site that makes money from advertising. We have a modified experience for viewers using ad blockers

Wikia is not accessible if you've made further modifications. Remove the custom ad blocker rule(s) and the page will load as expected.