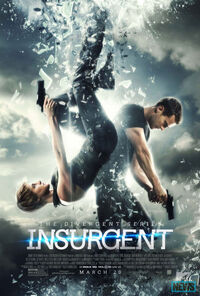 Summit must have high hopes for Divergent to do well in theatres because they already found a writer for the script of Insurgent! According to Deadline, Brian Duffield is set to write the script which continues Tris Prior's journey as war between factions begins.
Duffield is most known for scripting Jane Got A Gun, a film currently in production that stars Natalie Portman, Joel Edgerton, Noah Emmerich and Ewan McGregor. If Insurgent goes off without a hitch, we would see Shailene Woodley, Theo James, and Kate Winslet back on screen!
Source: Deadline
Are you excited about a film sequel already being in the works?
---
---
Ad blocker interference detected!
Wikia is a free-to-use site that makes money from advertising. We have a modified experience for viewers using ad blockers

Wikia is not accessible if you've made further modifications. Remove the custom ad blocker rule(s) and the page will load as expected.