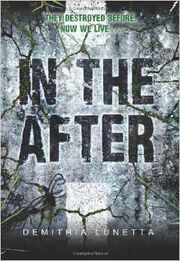 Okay you guys. I have to tell you about a fabulous new young adult book series. It's called "In The After," by Demitria Lunetta. It was so DANGED good that I literally couldn't stop reading it...I stayed up the entire night reading the blasted thing it was so good. Like "Divergent" the novel is also about a dystopian society. But it's completely different from Divergent and in some ways even better. The heroine of the story is a girl named Amy. She tells the entire story in first person. Amy is a survivor of an alien holocaust. But the truth is entirely different from what Amy believes. You'll be shocked at the ending. This book is the first of a series. Here's what Amazon says:
In debut author Demitria Lunetta's heart-pounding thriller, one girl must fight for her survival in a world overrun by violent, deadly creatures. Perfect for fans of New York Times bestsellers like The 5th Wave and Across the Universe.
Amy Harris's life changed forever when They took over. Her parents—vanished. The government—obsolete. Societal structure—nonexistent. No one knows where They came from, but these vicious creatures have been rapidly devouring mankind since They appeared. With fierce survivor instincts, Amy manages to stay alive—and even rescues "Baby," a toddler who was left behind. After years of hiding, they are miraculously rescued and taken to New Hope. On the surface, it appears to be a safe haven for survivors. But there are dark and twisted secrets lurking beneath that could have Amy and Baby paying with not only their freedom . . . but also their lives.
Ad blocker interference detected!
Wikia is a free-to-use site that makes money from advertising. We have a modified experience for viewers using ad blockers

Wikia is not accessible if you've made further modifications. Remove the custom ad blocker rule(s) and the page will load as expected.